Art in the Library: October
August 27 @ 8:00 am

-

October 30 @ 5:00 pm
Downstairs Gallery

Struggle For Women's Equality
Posters from the Stephen Lewis Collection
October 2–29, 2019
The current exhibit is titled The Struggle for Women's Equality, and it consists of about 25 posters from the collection of Stephen Lewis.This exhibit highlights some of the issues and challenges facing women, or that women once faced. Some of the issues the posters address are job discrimination, voting rights, and full participation in the workforce and in unions. The posters hail from several countries including the US.Through graphics and written word, they address issues of discrimination, gender bias, and inferior treatment of women. Lewis encourages people to view the exhibit regardless of your attitudes and think about the issues the posters speak to.
The posters are from a collection of more than 8600 posters of Stephen Lewis. Lewis has been collecting political posters for 20 years and staging exhibits around Massachusetts. He can be reached at Lewisposters@gmail.com

Upstairs Display Case
Little Golden Book Exhibit August 28–October 30, 2019
Nostalgia for ones childhood is often made up of the little things: a favorite plaything, a particular birthday party, the unconditional love of a family pet, or a story read again & again from a little Golden book. These original editions represent years of finding by chance or searching through book dealers the favorite childhood books of one Metrowest library patron. Each Golden Book evokes for her a warm memory of a time, place, or individual.


Little Golden Books are still published and available in bookstores, although the original twenty-five cent cover price has increased by as much as tenfold. Some people create a collection with the belief that it will increase in value "some day."  These books were brought together guided by the wisdom "collect what you love."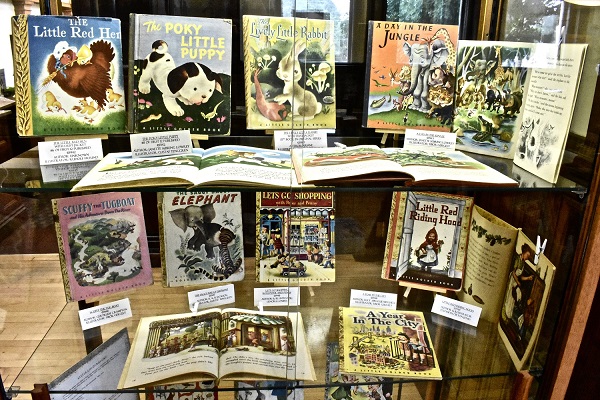 Long-Term Exhibits

Anthony Antonellis is exhibiting five of his unique wood creations in the fireplace lounge area, adjacent to the main circulation desk, and another one is exhibited near the public computers. The pieces are intricately patterned wood assemblages, carefully crafted and finished. Enjoy this visually dynamic exhibit.
On extended loan, in the downstairs conference room are photographs by Bill Horsman, a commercial and fine art photographer who has exhibited in the library and currently has his studio in downtown Ashland.

If you are a collector and would like to share your collection with the Library community by exhibiting all or part of it in the locked display case near the main circulation desk, please contact Larry DeJong at leftaris@gmail.com. Leave a short message and a way to contact you and he will follow up with you.