Art in the Library: March
Downstairs Gallery
"Back and Forth between New England and the Loire Valley"
Paintings By Marion Buricatu
March 3 – March 31, 2020
Shrewsbury artist and resident Marion Buricatu was born in the rural town of La Fleche, surrounded by the French landscape. She grew up in an artistic family but oriented herself towards science, and worked in the environmental management field. Even though her work was creative, it didn't align with her artistic instinct! Marion came to the US around 2000 with her husband and two children. Shortly thereafter Marion took up painting, taking classes with painting teachers before becoming one herself.
Nineteen years later, Marion combines everything. She combines her French culture and American influence, along with her education to create those paintings next to you.
"Behind every painting is a conversation. My conversation is about my 2 cultures, my 2 countries and how I try to unify them together into my life by painting. This exhibition is about this constant back and forth between New England where I live and the Loire Valley, where I am from. This is my story and I hope you will think of your own when you read the stories behind my paintings and let them become your own conversation."
View more info about Marion's paintings at: www.marionsworkshop.com
Upstairs Display Case
"Evolving Force"
Ceramic Creations by Adrienne Ghilani
March 3 – June 13, 2020
Ashland resident and artist Adrienne Ghilani has been working in clay for several decades. Her work is inspired by "big forces in nature such as the sky, the ocean and its waves, the wind—forces that are constantly in motion, changing, yet they follow similar patterns and cycles within their eternal differences." Adrienne creates most of her work on the potter's wheel using layers of different colored clay, creating forms in which the colors swirl together suggesting an element of motion. Very unique clay forms by one of Ashland's creative artists.
---
"Musky"
The library received a wonderful sculptural donation this fall, 2019. It is "Musky," an original bronze casting of a musk ox by the well-known artist Shay Rieger. The donation was made by Melissa & David Fountain. Melissa is the niece of Ms. Rieger. It is currently housed under the tree in the main entrance lobby (see photo). 'Musky' is happy in its new home and loves to be petted. In the years to come he is likely to move around and explore other areas of the library.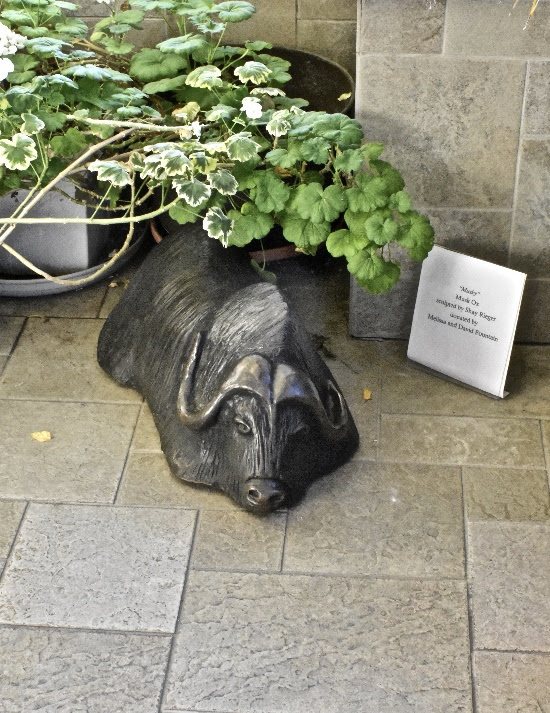 Long-Term Exhibits

Anthony Antonellis is exhibiting five of his unique wood creations in the fireplace lounge area, adjacent to the main circulation desk, and another one is exhibited near the public computers. The pieces are intricately patterned wood assemblages, carefully crafted and finished. Enjoy this visually dynamic exhibit.
On extended loan, in the downstairs conference room are photographs by Bill Horsman, a commercial and fine art photographer who has exhibited in the library and currently has his studio in downtown Ashland.
If you are a collector and would like to share your collection with the Library community by exhibiting all or part of it in the locked display case near the main circulation desk, please contact Larry DeJong at leftaris@gmail.com. Leave a short message and a way to contact you and he will follow up with you.