Art in the Library: November
August 27 @ 8:00 am

-

October 30 @ 5:00 pm
Downstairs Gallery
"Aqua Terra" Paintings by Pamela DeJong Oct. 31 – Nov. 30
Demonstration and Gallery Tour, November 20, 11:30am – 1:30pm

Artist's Reception on Saturday, November 23rd, 2:00 – 4:00 pm
Ashland resident Pamela DeJong is exhibiting some of her encaustic paintings this month in the Gallery.

Pamela writes of her involvement with art:

"After becoming proficient in conventional painting mediums, through a variety of educational sources, I became interested in luminosity, layers, and the atmospheric conditions creating the wavering vibrant color the impressionists saw. I was fortunate to travel to regions and plein air paint where many artists have painted before me. Experimentation with encaustic and other mediums that helped me create luminous layers became my focus. After painting land and waterscapes for many years I realized that I could put forth healing energy towards the earth and our oceans."

Pamela says of her work on exhibit:
"This collection of paintings has been a focus of conceptual study for the past several years including protecting the oceans, the Gulf of Maine, and Buzzards Bay environmental awareness. Treating and managing the human assault on our earth's natural resources will heal ourselves. Images can promote healing by creating a calm or energetic visual experience. We can be reminded of the beauty we inherited. We can heal, protect and preserve our environment, thereby healing, protecting and preserving ourselves."
There will be a Demonstration and Gallery tour on Wednesday, November 20, 11:30 am to 1:30pm.  There will also be an Artist's Reception on Saturday, November 23, 2:00-4:00 pm in the Gallery. Both events are free and open to the public.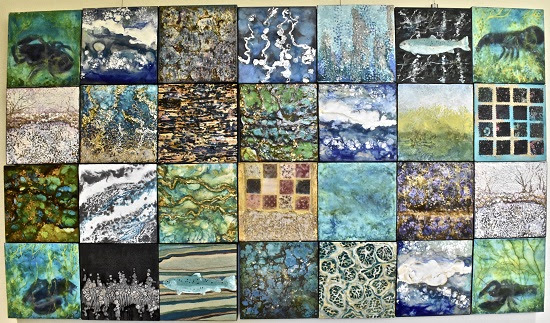 Upstairs Display Case
Thematic Playing Cards, Nov. 1st, 2019 – January 15th, 2020
An exhibit of various types of illustrated playing cards from a local library patron. The card games included are in various themes: Fortune telling, Transportation, & wildlife.  This patron has been collecting for some time and enjoys sharing parts of the collection with the public. An interesting collection of cards rich in visual images.

Long-Term Exhibits

Anthony Antonellis is exhibiting five of his unique wood creations in the fireplace lounge area, adjacent to the main circulation desk, and another one is exhibited near the public computers. The pieces are intricately patterned wood assemblages, carefully crafted and finished. Enjoy this visually dynamic exhibit.
On extended loan, in the downstairs conference room are photographs by Bill Horsman, a commercial and fine art photographer who has exhibited in the library and currently has his studio in downtown Ashland.

If you are a collector and would like to share your collection with the Library community by exhibiting all or part of it in the locked display case near the main circulation desk, please contact Larry DeJong at leftaris@gmail.com. Leave a short message and a way to contact you and he will follow up with you.